Founded as the Ardmore Main Street Program in 1988, in 1993 the Township of Lower Merion established the Ardmore Business District Authority as a municipal authority.  Initially chartered for five years, the charter was renewed in 1998, 2003, 2008 and most recently in 2013 for 10 years.  Originally known as Ardmore 2000, the organization is currently uses the name Ardmore Initiative.
Ardmore Initiative is a Business Improvement District (BID) which provides community initiatives, capital improvement programs and services like street cleaning in a defined geographic area of downtown Ardmore.  These efforts are funded through an assessment levied on property owners in the district.   BIDs contribute to increased property values, decreased commercial vacancy rates and improved sales for local restaurants and retailers.
The Ardmore Initiative provides services within the Downtown Ardmore Business District. The East-West boundaries span Lancaster Avenue from 233 E. Lancaster on the eastern side to 333 W. Lancaster and North Wyoming Avenue on the western end.  The northern boundary of the district is the railroad tracks.  The southern boundaries from west to east are: Greenfield Avenue to #62; Ardmore Avenue to #26; Cricket Avenue to #123; Rittenhouse Place to East Athens and including East Athens to Cricket Avenue.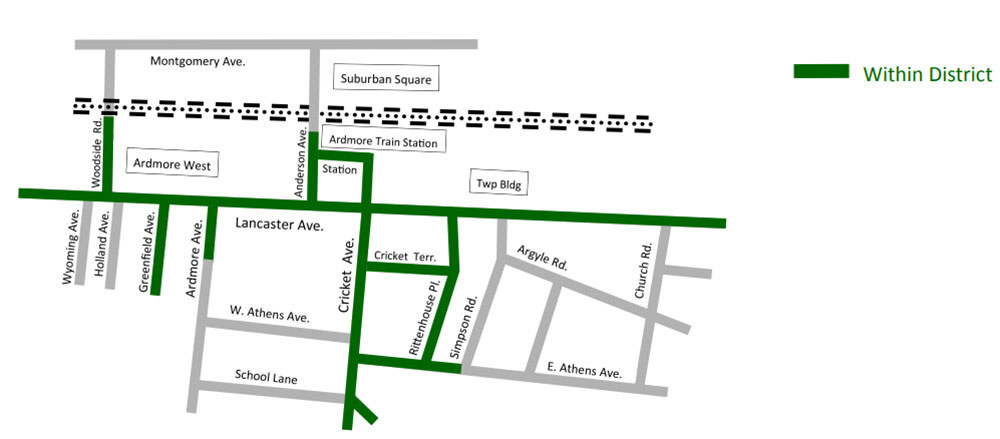 The mission of the Ardmore Initiative is to manage the business improvement district in Ardmore, PA, to improve the business mix, to foster the preservation and development of downtown's historic buildings, be an advocate for business and property owners, promote the downtown for the benefit of all Ardmore residents, and to partner with the Township of Lower Merion and area community organizations.

Our vision for Downtown Ardmore is to create a welcoming, walkable, and inclusive downtown that offers a vibrant business mix, including family-friendly, independent and national retail stores, and service businesses. Our specialty food shops and restaurants build on our already robust reputation as a regional dining destination. Downtown will serve as a vital destination for all Ardmore residents and visitors, with shops and eateries to meet every budget. Our yearlong calendar of well-regarded and highly anticipated special events will make memories for generations of Lower Merion residents and shoppers. Visit Destination Ardmore!

Subscribe to our Newsletter