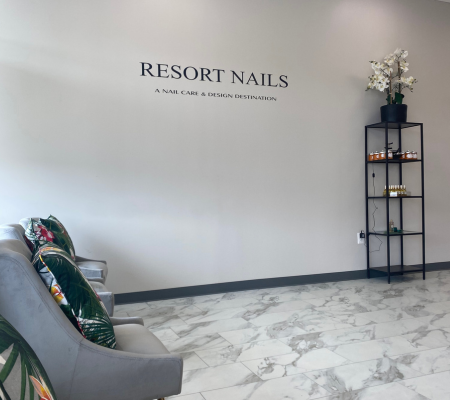 Business Spotlight: Resort Nails
Resort Nails: A Nail-cation in Ardmore
Naeemah Johnson, owner of Nbeauty and Resort Nails on Greenfield Avenue, had a vision to open a nail salon after noticing that people were not inclined to get their nails and hair done at the same spot. She has traveled to numerous countries around the world with her mother, and always visited a spa and bought a souvenir at each destination. The moment that clicked for her was in Spain, when she had a fish pedicure at a spa. Although fish pedicures are banned in the state of Pennsylvania, she loved the relaxing vibe of the spa, and wanted to bring that back to the United States. As a result, she opened Resort Nails, a nail salon with a resort theme, to make guests feel as though they are on a vacation while they receive their manicures and pedicures.
During Naeemah's journey of opening the nail salon, one of her clients referred her to Mimi Lim, who was a consultant at the time. Mimi listened to Naeemah's vision for a professional press-on nail salon and decided to switch gears completely to become Naeemah's business partner. Naeemah was just starting out in the nail world, while Mimi already had experience in working with nails. It made perfect sense for them to come together to build the salon.
So, what is it about Resort Nails that made Mimi join the team? Well, of course, the salon specializes in all kinds of nail services. Dip powder, acrylics, poly gel, and even manicures designed for men. But what truly sets Resort Nails apart are two factors: their commitment to creating beautiful press-on nails, as well as services inspired by places from all around the world. The owners noticed how nail salons rarely specialized in press-on nails and believed that there was a need for professional press-on nails. These nails are handmade by the team, who were all trained by Mimi to ensure quality work across the entire team. Mimi felt that it was important to have consistent and well-done nail art so that guests know that their nails will turn out beautiful, no matter who is holding the brush.
But where does the resort theme come in? Naeemah has developed numerous services based around a trip that she has gone on. Named after the locations she visited, each service is designed to capture the essence of the place. Mykonos is a skin brightening service that includes a citrus foot soak, scrub, massage, and gel polish. Dubai is a clarifying service that features a jasmine scented foot soak followed by a scrub and massage. The special part about the Dubai service is that the client's feet are pampered in a 24K gold mask and finished off with gel polish. Every soak feels like heaven due to the water hitting pressure points on the feet. These two are only a few of the luxurious services that Resort Nails offers, in addition to their offering of Swarovski Crystals on nails.
What also sets Resort Nails apart, is their dry manicure. The owners found that dry manicures, which means that the nail techs prepare the nails without using liquid, made nail polish last longer. The reason for this is because dry nails hold polish better. When nails are soaked in water, they are not completely dry by the time that the polish is painted on. As such, the polish is more susceptible to come off. Additionally, nails soaked in water tend to swell a bit, especially the cuticles, another factor that affects the durability of the nail polish. Because of this, Resort Nails provides dry manicures that prolong the lifespan of the nail polish.
One of Naeemah's biggest struggles was learning how the nail world functioned. She is an expert in hair, but nails are a different beast. As a black woman in an Asian-dominated field, she encountered numerous cultural differences and at times even language barriers. However, she found that the nail world is similar to a melting pot, meeting people from all different backgrounds and bonding over a passion for nails. She loved getting to know them and eventually getting to build her team of nail techs that she knows she can rely on.
"Some of my nail techs have expressed to me how much they have grown as a nail artist because of the salon. That makes me so happy, you know? To be able to provide a safe learning environment."
Her biggest supporter is Mimi, who has always guided Naeemah and worked out solutions with her for any issues that arise. She has enjoyed collaborating with Mimi and bringing Resort Nails to life despite setbacks due to delays in receiving a permit for construction. She felt anxious about when the salon would open, as she had hoped for a September opening. However, through all of it, Mimi reassured her that it would work out, leading Naeemah to feel at ease and learning to trust that things will work out.
Mimi never envisioned herself working at a nail salon. She made a complete shift from working a corporate job where she wrote manuals, to being the co-owner of a nail salon. With 13 years of experience with nails under her belt, she assumed that it would just be a hobby when she started doing nails. However, she quickly picked up the techniques and amassed loyal clients that have been seeing her for years. She enjoys working with nails and meeting with clients, especially learning about people's stories and creating individual connections with them.
"Go out and try. If you fail, continue to try, just go at it. Find the right materials for you. You're going to have people who aren't happy with their nails. It might not be perfect at first. But try, and try again."
Mimi wishes she had known more nail techs in her age bracket when she first started out. She would have liked to hear feedback and differing opinions from people around her age, as well as be a part of a community that is supportive. As a result, she has taken on this role in the salon, to be the person that the staff can rely on for help.
"The most important thing to us, is for guests to be able to come in and relax without any doubts about our services. And if they do have a doubt, then we will listen to what they say and reassure them that we will take proper care of them. We don't have a communication barrier here. Everyone speaks English. Our guests know that they will receive exactly what they ask for. No miscommunication. We cater to anyone and everyone."
Naeemah has big goals for the future of her business. She would love to grow into more locations, and potentially even franchise. She also aims to have a line of her own products. She currently has a line of cuticle oil and sugar scrubs, but she wants to develop this line further and create her own nail polish. She also recently created a membership club for the salon, offering a special 15% off all nail services, free nail removal, and more. Despite the numerous setbacks she has faced throughout the construction of Resort Nails, she has maintained a positive attitude and believes that it comes down to having that "wow factor". She thinks that it kept her motivated and hopeful in the process.
"It's your brainchild. You should never give up on that."
Resort Nails
46 Greenfield Ave, Ardmore, PA 19003
484-412-8036
Sunday 10AM – 5 PM
Monday to Friday 10 AM – 7 PM
Saturday 9 AM – 6 PM