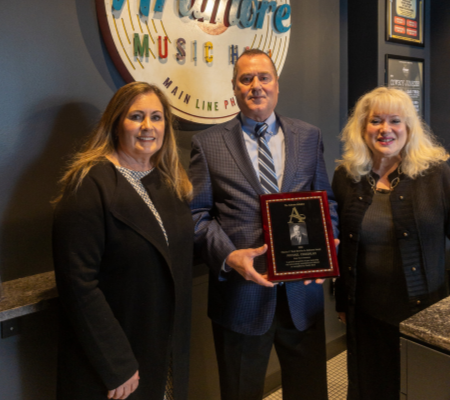 Ardmore Initiative holds annual Stakeholder Breakfast
The Ardmore Initiative recently held the organization's annual Stakeholder Meeting and Leadership Breakfast.  The morning was held at the Ardmore Music Hall and was sponsored by Suburban Square.
Business and property owners gathered with Lower Merion Township, state and local officials to hear updates on the organization's efforts to promote the downtown as a destination, such as:
Support for new businesses
Streetscape initiatives
Community and special events
Economic opportunities including grants for new and existing businesses
Nancy Scarlato, Executive Director of the Ardmore Initiative, shared key updates about the downtown including:
Despite the necessary closings due to the pandemic Ardmore had few businesses that were forced to close due to COVID. We have welcomed over 25 new businesses to Ardmore in the last two years and continue to do so.
Downtown Ardmore is currently at a low 7% vacancy rate for first floor, commercial space.
Ardmore Initiative will welcome back events at increased capacity this year, including Ardmore Restaurant Week and Ardmore Oktoberfest.
Updates on the upcoming Piazza project, Septa construction, and the Ardmore Master Plan from Lower Merion Township rounded out the morning.
The Ardmore Initiative also honored Charlie Ward, who recently passed away.  Charlie was a 4-term Lower Merion Township commissioner, served as president of the board for 11 straight years, and was Chairman of the Ardmore 2000 Board of Directors, which then became the Ardmore Initiative, from 1995-2007. The Ardmore Initiative created the Charles F. Ward Service to Ardmore award in 2008 as a means of recognizing someone in our community whose efforts and good works have impacted Ardmore in meaningful and significant ways and whose attributes emulate those of Charlie.  Mike Coughlan, outgoing Ardmore Initiative Board Member was awarded the 2022 Charles F. Ward Service to Ardmore Award.